Ceffu Launches Its Third Institutional Wallet With Key Share Co-ownership Solution
2023-06-15
  •  3 min read
Ceffu, the compliant institutional custodian and off-exchange partner of Binance, today announces the official launch of its third institutional wallet solution, Co-sign Wallet. This solution offers institutional users more control over transaction signatures as it requires two out of three private key shares to approve them, one of which is bound to the user's personal device of choice when setting up their wallet.
This co-signing setup allows users to approve their transactions instantly, thereby increasing transaction speed significantly while still benefiting from the highest standards of security cemented by multi-party computation (MPC) technology and asset segregation with their own individual wallet address.
The release of this wallet follows Ceffu's two existing wallet types – Qualified Wallet, Ceffu's foundational cold storage solution, and Prime Wallet, a hybrid wallet combining elements of hot and cold wallets, suitable for trading firms looking for scalability and connectivity to the Binance orderbook.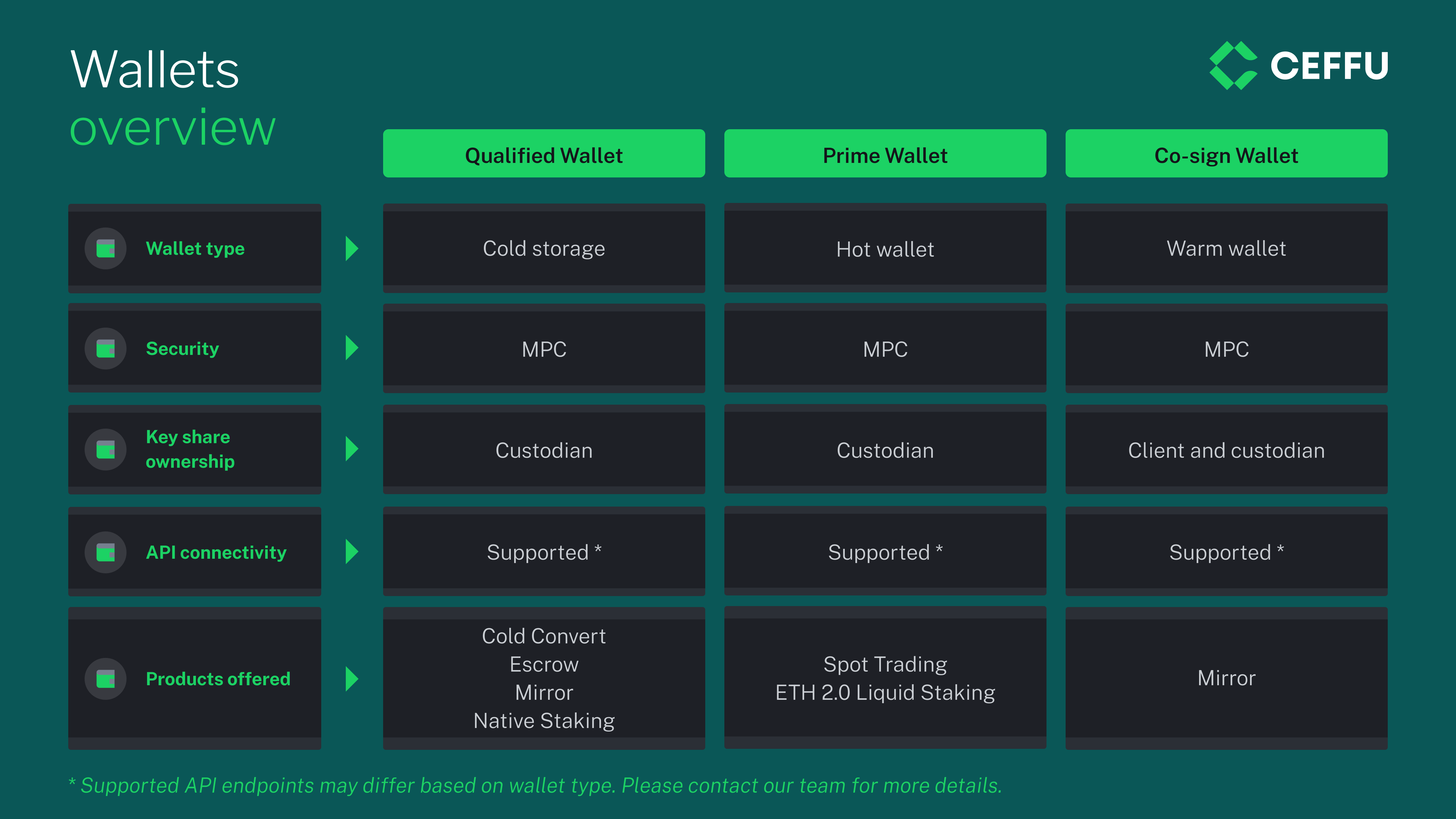 Another core feature of Co-sign Wallet is its compatibility with Mirror, Ceffu's flagship off-exchange settlement product. As a tripartite setup between Ceffu, the client, and the Binance Exchange, Mirror enables institutional investors to trade on the world's largest cryptocurrency exchange by trading volume while their assets remain off-exchange at all times in their segregated Ceffu wallet. Access to Mirror is also available on Qualified Wallet.
"We spend considerable time speaking to our clients, collecting feedback on their experience with our products, and listening to what their needs are from a security and utilization perspective to help them manage their digital assets more efficiently. After months of development, testing, and input from our clients, we're excited to bring this new product to market and provide a middle-ground solution that allows for co-ownership of key shares without compromising on security and accessibility. We believe that this new model, combined with our Mirror functionality, makes it a very competitive custody product." – Athena Yu, Vice President, Ceffu
With more control over their transaction signing process, users of Co-sign Wallet are also able to take advantage of arbitrage opportunities and deploy more sophisticated trading strategies with faster inter-exchange transfers, allowing them to move assets in and out efficiently.
For more details about how our new Co-sign Wallet solution can meet your business needs, please contact our account management team by filling out this short institutional form.
–
About Ceffu
Ceffu is a compliant, institutional-grade custody platform offering custody and liquidity solutions that are ISO 27001 & 27701 certified and SOC Type 1 & Type 2 attested. Its multi-party computation (MPC) technology, combined with a customizable multi-approval scheme, provides bespoke solutions allowing institutional clients to safely store and manage their digital assets. Such solutions include insured on-chain cold storage, escrow services, staking, OTC and spot trading.
Institutions also benefit from Ceffu's secure gateway to a wide range of liquidity products within the Binance ecosystem as Binance's institutional custody partner through Mirror, its off-exchange settlement solution.
Media contact: pr@ceffu.com 
Stay informed
LinkedIn: Ceffu
Twitter: @CeffuGlobal